Posted
May 11, 2008 by admin
in Ads
Condo for Sale, Malayan Plaza Condominium
LISTING INFORMATION
Type: Condominiums
Category: For Sale
Area: 32 to 128 sqm. (344 to 1,378 sq.ft.)
PLEASE CALL 994.8103 or 0922.8225798 for viewing schedule.  
Location: Ortigas Center along ADB Avenue very near ADB and PODIUM.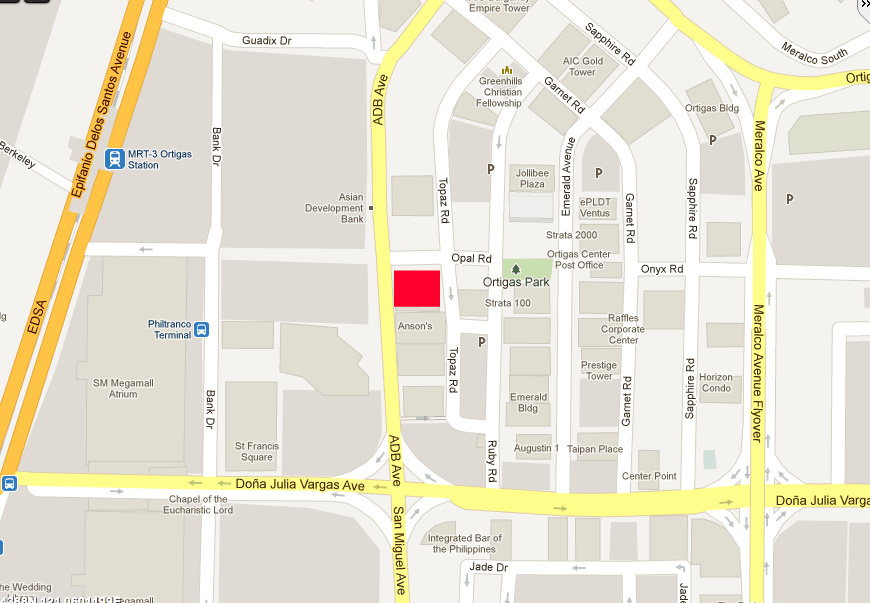 BUILDING CHARACTERISTICS:
Main Lobby; Visitor's Lounge, Reception Areas; Four Passenger Elevators; One Service Elevator; Ten-level Parking Space; Helipad; Swimming Pool; Open-air whirlpool; Shower rooms; Gym; Game Room; Mini-Golf putting green; Children's playground; Children's playroom; Function room; Jogging Path; Standby Emergency Power; Video Entry Phone; Security Surveillance Monitor; Car Paging System; Elevator Supervisory and Control System; Stair Pressurization System; Centralized Garbage Disposal System; Laundromat.
Features
* Kitchen
* Living/dining area
* Master's bedroom with T&B
* Entry Foyer
* Video Intercom
* Provision for individual window air-con
* Provision for direct telephone line connections
* 220 voltage electrical outlets
* Fire alarm and sprinkler system
* Hot and cold water
* Maids' room with T&B (only for two-bedroom deluxe and bigger units)
* Cable TV
Near Malls: Podium, Megamall, Robinson's, Shangri-La; Near El Pueblo, St. Francis' Square, Pearl Drive, Emerald St., Eastwood City, Libis; Near Univ. of Asia and the Pacific, La Salle Greenhills, Poveda, Brent, St. Paul's College
PLEASE CALL 9948103 or 09228225798 for viewing schedule.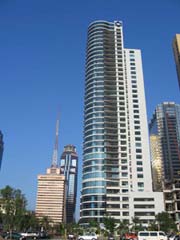 Malayan Plaza has been growing in popularity because the building is operating as a condotel.
and being neatly managed that is why maintenance is nice on the top floor. I have particularly
noticed that I just love swimming in high end hotels and resorts since water is clean and changed
regularly. Lobbies are clean and smell nice as well as the amenities area. That is why Malayan Plaza has been a favorite here in Ortigas Center of expats in the Philippines as well as balikbayans. You may click this link to see more of the Malayan hotels.
Should you have any unit for sale or for lease please let us now as there is a demand for Malayan units.
Here is an updated For Sale and For Lease at Malayan Plaza this SEPTEMBER 2011:
Enrolled under the CONDOTEL Pool: These are units that are currently being used by guests of the hotel. Has income as part of the units being rented out.
40 sqm  studio  P3.5M this listing won't last!
43 sqm   studio   P5.4M
Both are resale units and price is based on the seller!
Not enrolled in the CONDOTEL Pool: You are the one who will have to find your tenant and maintain this unit.
63 sqm    1br  w parking  corner unit  P5.3M
56 sqm      1 br   4.5M
HISTORY OF SALES AND LEASES:
FOR SALE
P7.8M   2BR 94 SQ W PARKING 3 aircon split type range hood multipoint water heater  SOLD
P4.8M 54.6 SQM W BALCONY W PARKING furnished and tenanted P30,000 income SOLD
P54.60/sq dues here at Malayan Plaza    (2011 Dues @ 60/sqm)
Parking being rented at P2,500 (being rented by another person)
PLEASE CALL 994.8103 or 09228225798 for viewing schedule.
Sample pics from their website which you may visit by clicking here.FOR LEASE UNITS
P25,000 STUDIO fully furnished with an area of 32.70 sqm at a high floor (29th) inclusive of dues TAKEN
P22,000 STUDIO fully furnished with an area of 32.70 sqm at a middle (10th) inclusive of dues TAKEN
Both units are on th same side facing Opal street – The view is Oakwood hotel and portion of Wack Wack Golf Course.
P35,000BIG  STUDIO 55 sqm with balcony ff (27th floor) inclusive of dues morning sun (antipolo side view)
Bldg at back up to 25th floor so view is not obstructed. TAKEN
P90,000 2br 126 sqm fully furnished with tandem parking inclusive of dues
PLEASE CALL 994.8103 or 0922.8225798 for viewing schedule.
YOU MAY ALSO BE INTERESTED HERE!
ANOTHER CONDOMINIUM on its pre-selling stage GUARANTEES rental income when it gets turned over.
Incoming search terms:
yhs-fullyhosted_003
malayan plaza condo for sale