CONDOTEL for sale – with P600/sqm 5 year GUARANTEED INCOME!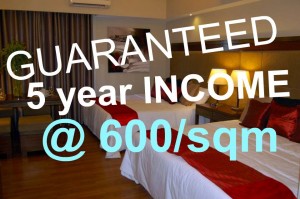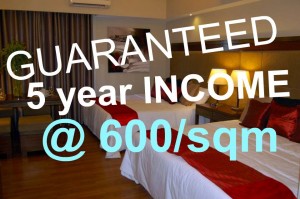 LOCATION:
622 Shaw Boulevard corner Samat Street
Mandaluyong City, Metro Manila
Philippines
994.8103 0922.8225798
Location Information
Standing tall along Shaw Boulevard in Mandaluyong City, Philippines, Lancaster Hotel Manila superbly offers a central location in the metro. We are approximately 45 minutes away from the Ninoy Aquino International Airport and a short walk to the nearest Metro Rail Transit (MRT) station. Aside from these landmarks, you'll also be close to these other major sites in the area:
Shangrila      SM Megamall      Ortigas Center      The Medical City
The business opportunity is in the second building of Lancaster Suites
Here's a letter from the owners son:

I am Christian T. Yap, Global Marketing Director for Lancaster Atrium.I am proud to present our latest Product Packaging for Lancaster.

Guaranteed (Minimum) Rental Income* 




GRI Units.

Our company, Pacific Concord Properties, Inc. has yet again pioneered anindustry leading innovation found only in our Project Lancaster Atrium

Tower A Tower. We call this the GRI program.

GRI Program:Firstly, the units listed herein are sold Fully Finished, Completely Fitted

in a Luxury Condominium-Hotel Standard, ready for Condominium-Hotel

Operation. This fit-out level includes everything that is required in a

Hotel Suite, in order for the room to be ready for Condominium-Hotel

Operation. This includes finishing, furniture, accessories including even

the bed sheets, towels, plates, cups, glasses, utensils, etc.

As evidence of our commitment to ensure the success of the Lancaster Atrium

Tower A Condominium-Hotel Operation, we have undertaken a Bold Step of

Guaranteeing A Minimum Rental Income for the said GRI units.

A first in the Philippine Real Estate Industry:

*Guaranteed Minimum Rental Income of P600/Square Meter/Month for A Period of 5 Years

*Guaranteed Rental Income for A period of 5 Years, Gross of Association Dues and Withholding Taxes of 5%.

Other Developers give empty promises of Lessees, Rental Income, and Cash

Flow. But we are the first and only Developer to Guarantee it.

Commercial Lease Rates for Retail Spaces at other CBD's have a Basic Lease

rate of about P600 to P750/Square Meter. This means that with our GRI

program, the Lancaster Investor can be assured of a commercial lease rate

comparable to that of premium retail/commercial spaces in prime areas.

Investors must also note that the said Guarantee is a minimum guarantee.

This means that during peak or high occupancy months wherein the hotel

occupancy merits a higher return per square meter than P600, the excess

would still be given to the investors and Condominium – Hotel unit owners.

CALL TO RESERVE NOW! 994.8103 0922.8225798

Computation:

Unit: 2708B

Size: 28.27 Sqm.

Price: P3,221,875.36

Reservation Fee: P25,000.00

10% DP: P319,687.54

5% on Month 2: P159,843.77

5% on Month 3: P159,843.77

Balance Payable in 48 Equal Monthly Payments of: P53,281.26/Month

GRI:

MINIMUM Rental Income: P16,962/Month

RENTAL INCOME @ 90% Occupancy Rate: *P25,471.27/Month

Pagcor Gaming and entertainment Operation:

Lancaster Atrium is adjacent to the pioneer project Lancaster Suites.

Lancaster Suites has been given Barangay, Mayor's, and Church Permits for A Pagcor

Licensed Gaming and Entertainment Operation to be located at the lower ground and the

mezzanine. Target finalization and signing with Pagcor is slated for May, 2011.

The Casino Floors that will be integrated with a Ballroom Dancing Club will have an

aggregate area of almost 1500 square meters.

This added feature would certainly improve the traffic of hotel guests for The Lancaster

Shaw Hotel Complex and would further solidify the superb occupancy rates that the hotel

would enjoy for the coming years.

The Gaming and Entertainment feature would be allow the Hotel to enjoy a Durable and

long term competitive advantage, it being the only hotel in Central Metro Manila that would

have a Pagcor-Licensed Gaming and Entertainment Operation. (Pasig, San Juan, QC,

Mandaluyong)

Please do not hesitate to email me should you have any

questions

or clarifications.

I hope that the above merits your approval.

Thank you very much.

Best Regards,

Christian T. Yap

Vice President for Contracts and Awards

Pacific Concord Properties, Inc.

994.8103 0922.8225798
YOU MAY ALSO BE INTERESTED IN:
OTHER INVESTORS WHO MAY WANT AN INCOME RIGHT NOW FROM THEIR UNIT AND ABLE TO PAY IN CASH COULD DO SO WITH THIS CONDOTEL PROJECT IN ORTIGAS CENTER. CLICK HERE.