Look No Further! Condo Listings that Won't Last!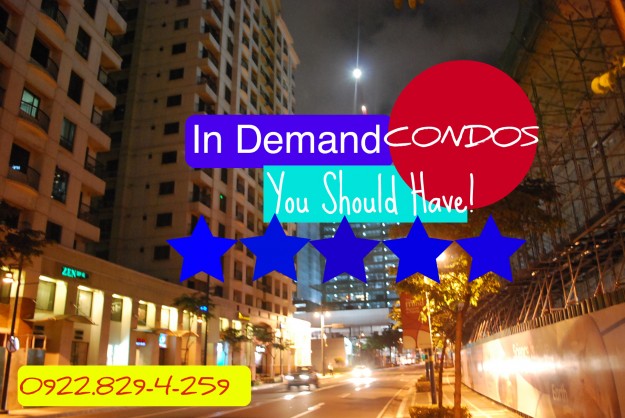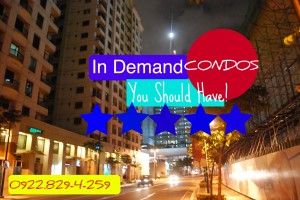 As this is a highly in-demand condominiums in the listing – please call the number indicated to verify availability. One day notice prior to viewing. We will schedule viewing upon submission of the form which we will email to you. We are glad to be part of your property search her in the Philippines.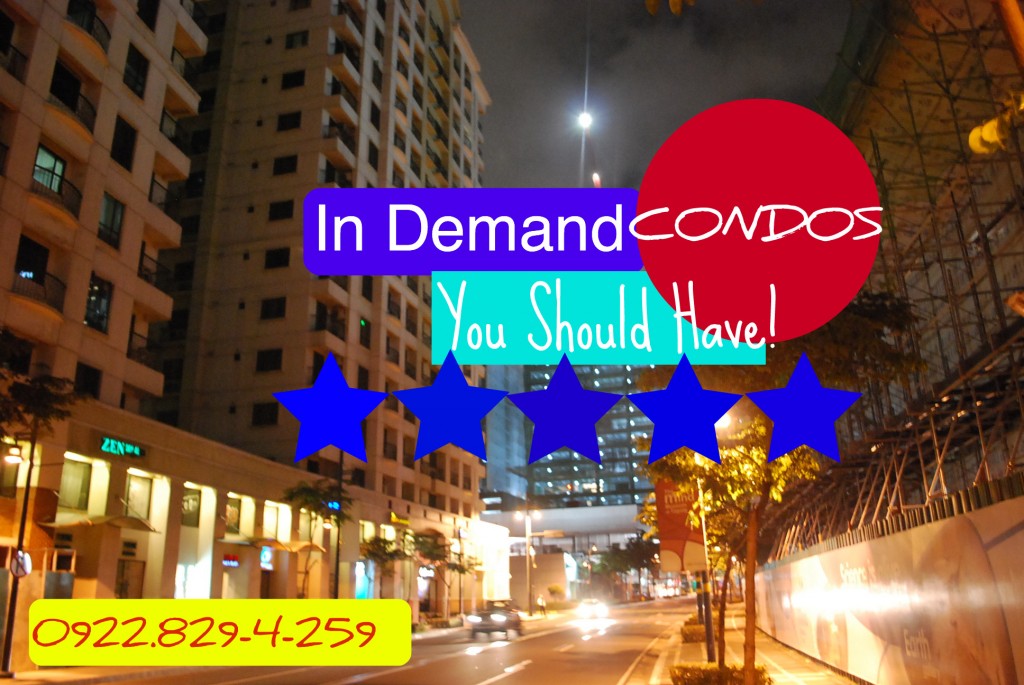 CALL TO RESERVE THE UNIT!
Bonifacio Global City – 3 bedroom
Pacific Plaza Tower – 299 m2 @ Php 40M
Essensa Forbes – 290m2 @ Php 35M
Regent Parkway – 307m2 @ Php 40M
One Mckinley Place – 186m2 @ Php 22M
One Serendra – 220m2 @ 25M
One Serendra @ 157m2 @ 17M
Bellagio – 167m2 @ Php 19.9M, penthouse
Bellagio – 470m2 @ Php 65M, penthouse
Penhurst Place – 115m2 @ Php 8.5M, w/income
Seibu Tower – 118m2 @ Php 12.5M
Penhurst – 160m2 @ Php 16M, w/income
W Tower – 135m2 @ 12.5M
Two Serendra – 152m2 @ Php 20M, garden unit
One Serendra – 174m2 @ 19M, assume balance, MUST SELL !
Bonifacio Global City – 2 bedroom
Regent Parkway – 157m2 @ Php 17.5M
Bonifacio Ridge – 113m2 @ Php 15.5M, den, pool & golf view
One Mckinley – 115m2 @ Php 13M
Icon Tower – 98m2 @ Php 12.5M, w/income
W Tower – 79m2 @ 7M, w/income
Blue Sapphire – details to follow
Grand Hamptons Place – details to follow
Fairway Towers – details to follow
Fifth Avenue Place – details to follow
Two Serendra – details to follow
Bonifacio Global City – 1 bedroom
Bellagio – 66m2 @ Php 6.5M
Fifth Avenue Place – 50m2 @ Php 4.9M
Fort Palm Springs – 50m2 @ Php 5M
Forbeswood Heights – 57m2 @ Php 5.7M, furnished
Two Serendra – 47m2 @ Php 6.5M, w/tenant
One Serendra – details to follow
Fairways Tower – details to follow
Kensington Place – 69m2 @ Php 69m2, 2br
Grand Hamptons Place – 43m2 @ Php 5.5M, 1br
Blue Sapphire – details to follow
Seibu Tower – details to follow
Makati – 3 bedroom
One Rockwell – 127m2 @ Php 18.5M
Pacific Plaza – 285m2 @ Php 24M – Php32M
Ritz Towers – 271m2 @ Php 23M
Regency at Salcedo – 200m2 @ Php 20M
Three Salcedo Place – 314m2 @ Php 30M, penthouse
One Salcedo Place – 186m2 @ Php 20M
Two Salcedo Place – 186m2 @ Php 17M
Three Salcedo Place – 186m2 @ Php 19M
Rizal Tower, Rockwell – 268m2 @ Php 35M
Luna Garden, Rockwell – 247m2 @ Php 30M
Hidalgo Tower, Rockwell – 186m2 @ Php 23M
Cordova Condominium – 270m2 @ Php 14.5M
Avignon Tower – 660m2 @ Php 40M, 4br, den
Avignon Tower – 336m2 @ Php 19M, 4br
Ponte Salcedo – 270m2 @ Php 17M
Makati – 2 bedroom
One Legazpi Park – 98m2 @ Php 13.2M
Hidalgo Tower, Rockwell – 148m2 @ Php 22M, w/income
Easton Place – 126m2 @ Php 8.5M
Ponte Salcedo – 140m2 @ Php 8M
Joya, Rockwell – 100m2 @ Php 12.5M
Asian Mansion – 115m2 @ Php 9M
Le Gran – 137m2 @ Php 9M
Raffles – details to follow
Makati – 1 bedroom
Columns – 57m2 @ Php 5.5M
A-Venue – 50m2 @ Php 4.7M
One Legazpi Park – 62m2 @ Php 9M
Somerset – 50m2 @ Php 5.5M
One Lafayette – 60m2 @ Php 5.6M
Manansala, Rockwell – 71m2 @ Php 8M
Asia Tower – 72m2 @ Php 8.5M, w/income
Raffles – details to follow
Shang Grand Tower – 132m2 @ Php 19M, 2br
Pasig – 3 bedroom
Alexandra – 216m2 @ Php 16.5M
Cedar Mansion – 179m2 @ Php 8M
Malayan Plaza – 157m2 @ Php 18M
Astoria Plaza – 152m2 @ Php 12.5M
Renaissance 3000 – 247m2 @ Php 9M
Pasig – 2 bedroom
Residencia 8888 – 115m2 @ Php 7M
Astoria Plaza – 110m2 @ Php 10M
Champagne – 137m2 @ Php 6.5M
Millenia Tower – 47m2 @ Php 3.7M
Emerald Mansion – details to follow
Exchange Tower – details to follow
Pasig – 1 bedroom
Millenia Tower – 30m2 @ 2M
Emerald Mansion – details to follow
Exchange Tower – details to follow
San Juan – 3 bedroom
Goldland Plaza – 175m2 @ Php 9.5M
One Beverly Place – 172m2 @ Php 10M
Platinum 1000 – 190m2 @ Php 8.5M
Strata View – 287m2 @ Php 18M, penthouse, 4br, new !
Strata View – 100m2 @ Php 9.5M, new
San Juan – 2 bedroom
Strata View – 78m2 @ Php 7M, balcony, new
Swire Elan – 132m2 @ Php 12M, penthouse
Regatta Residences – details to follow
First Baron Residences – 90m2 @ Php 5.2M
San Juan – 1 bedroom
Strata View – 50m2 @ Php 4.5M, balcony, new
Swire Elan – 48m2 @ 3.7M
Regatta Residences – 28m2 @ 1.7M
First Baron Residences – details to follow
Le Gran – 50m2 @ Php 2.8M
San Juan – studio
Swire Elan – 38m2 @ 3M
Mandaluyong – 3 bedroom
Wack Wack Twin Tower – 172m2 @ Php 18M, furnished
Wack Wack Twin Tower – 165m2 @ Php 9M
Lee Gardens – LEASE TO OWN, 122m2 @ Php 9.6M
Mandaluyong – 2 bedroom
Wack Wack Twin Tower – 127m2 @ Php 8.5M
Lee Gardens – LEASE TO OWN, details to follow
Mandaluyong – 1 bedroom
Lee Gardens – LEASE TO OWN, – 80m2 @ Php 6.3M
Wack Wack Twin Tower – 88m2 @ Php 6M
Mandaluyong – studio
Wack Wack Twin Tower – 33m2 @ Php 3M
Manila – 3 bedroom
Ocean Tower – 175m2 @ Php 15M, sunset view
Tagaytay Highlands – 3 bedroom
The Horizon – 214m2 @ 15M, furnished