The Knightsbridge Residences at Century City, Makati Metro Manila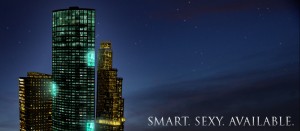 The Knightsbridge Residences will be the second residential tower to rise at Century City in Kalayaan Avenue, within the heart of the Philippines' Central Business District.
Long renowned as the epicenter of Philippine social, cultural and financial activity, Makati is constantly evolving and reinvigorating itself, transforming into a true megalopolis that is poised to compete with other urban centers all over the world.
AT THE CENTER OF ALL THIS ENERGY LIES CENTURY CITY.
Century City's location puts it in the middle of the most prime and expensive real estate in the country. A sprawling mixed-use development that incorporates live, work and play, it is a revolutionary "city within a city."
AVAILABLE UNITS IN KNIGHTSBRIDGE:
FOR AS LOW AS P19,000 A MONTH YOU CAN OWN A POD UNIT IN KNIGHTSBRIGDE
Each unit at The Knightsbridge Residences is called a POD.
Painstakingly configured to maximize space, echo the hip yet highly practical British lifestyle, and embody the sophisticated Modern Makati flair, the POD addresses the urban dweller's need for the STYLISH and SMART LIVING SPACE.
At The Knightsbridge Residences, each and every unit is podular in construction so that you can combine units to create more and more space for your needs.
KNIGHTSBRIDGE HYPERSIZED AMENITIES
At The Knightsbridge Residences, you are given access to large designer convergence areas that effectively multiply the dimensions of your home. With hyper-sized common areas that serve as "extensions" of your pod, the building is transformed into a true Vertical Village that nurtures community and interconnectivity among residents.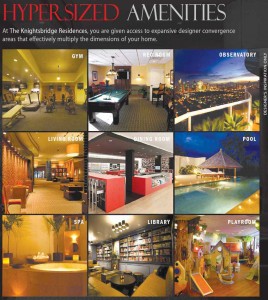 Because your home is beyond just your four walls.
* THE LIVING ROOM
A London-inspired, fully-attended designer lobby with white-glove doormen and round-the-clock concierge service.
* THE LIBRARY
An expansive Wi-Fi-ready living room replete with bestselling and international reads, an extensive DVD collection, and a business center.
* THE POOL
A unique, outdoor/indoor space with waterfalls, outdoor Jacuzzi and infinity pool, multiple daybeds, lounges, tanning beds and cabanas spread across an expansive sundeck.
* THE REC ROOM
A sprawling family room with a modern home entertainment system, a huge plasma projector screen, La-Z-Boy sofas, and recreational equipment for billiards, Foozball and card games.
* THE PLAYROOM
A supersized play gym for your little tykes.
* THE GYM
A highly-appointed, full-service fitness center complete with yoga and Pilates studios; weight training and cardiovascular exercise equipment; spinning room and on-site personal training services.
* THE DINING ROOM
An expansive dining area with a delicatessen, as well as function rooms and private dining rooms for entertaining guests.
* THE SPA
A sanctuary of serenity with massage and day spas, whirlpools and treatment studios for beauty.
* THE OBSERVATORY
Marvel at the spellbinding views of the metropolis as you stand atop one of the Philippines' tallest structures.
* OTHER AMENITIES
o Dry cleaning
o 24/7 electric and maintenance services
o Storage
o Property and lease management including security, asset maintenance, value enhancement and leasing services


Payment Terms
A.) 20% DOWNPAYMENT IN 1 MO. / 55% MONTHLY AMMORTIZATION IN 59 MONTHS / 25% TURN OVER
B.) 30% DOWNPAYMENT IN 1 MO. / 50% MONTHLY AMMORTIZATION IN 59 MONTHS / 25% TURN OVER
C.) 15% DOWNPAYMENT IN 6 MO. / 60% MONTHLY AMMORTIZATION IN 54 MONTHS / 25% TURN OVER
D.) NO DOWNPAYMENT / 100% IN 60 MONTHS / ( STRAIGHT PAYMENT )
E.) NO DOWNPAYMENT / 75 IN 60 MONTHS / 25% TURN OVER —> ( APPLICABLE FOR NORTH UNITS ONLY )
***All units will have unobstructed views
Call 8188983 8153737 09228225798 for viewing and reservation.
Incoming search terms: